Neo-Frecator Skin Cautery Machine NF-200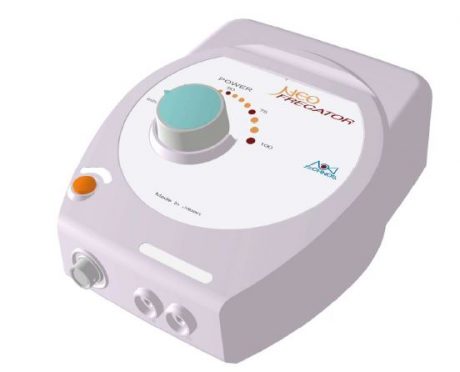 Skin Cautery Machine Japanese.
Model: Neo-Frecator NF-200.
Brand: Aoki – Japan
Neo-frecator is a simple, compact device creating a very high frequency current by use of spark-gap. Real Up-to-date technique has been applied in the making of Neo-frecator under the most careful direction of  authoritative surgeons.
Applying accessories for every particular case, Neo-frecator is always ready for instant use in Coagulation, desiccation and fulaguration with amazing effects. Not to speak of medical professions, Neo-frecator is now enthusiastically welcomed by beauty houses in daily use.
Standard Accessories 
NF-101  Foot Switch 1 pc.
NF-102  Needle Holder 1 pc.
NF-105  Depilation Needle  5 pc.
NF-106  Fulguration Needle 2 pc
NF-107  Coagulation Needle 1 pc
NF-Fuse  Spare Fuse 1 pcInstruction Manual 1 Copy.